Senior Fitness
高齢者フィットネス事業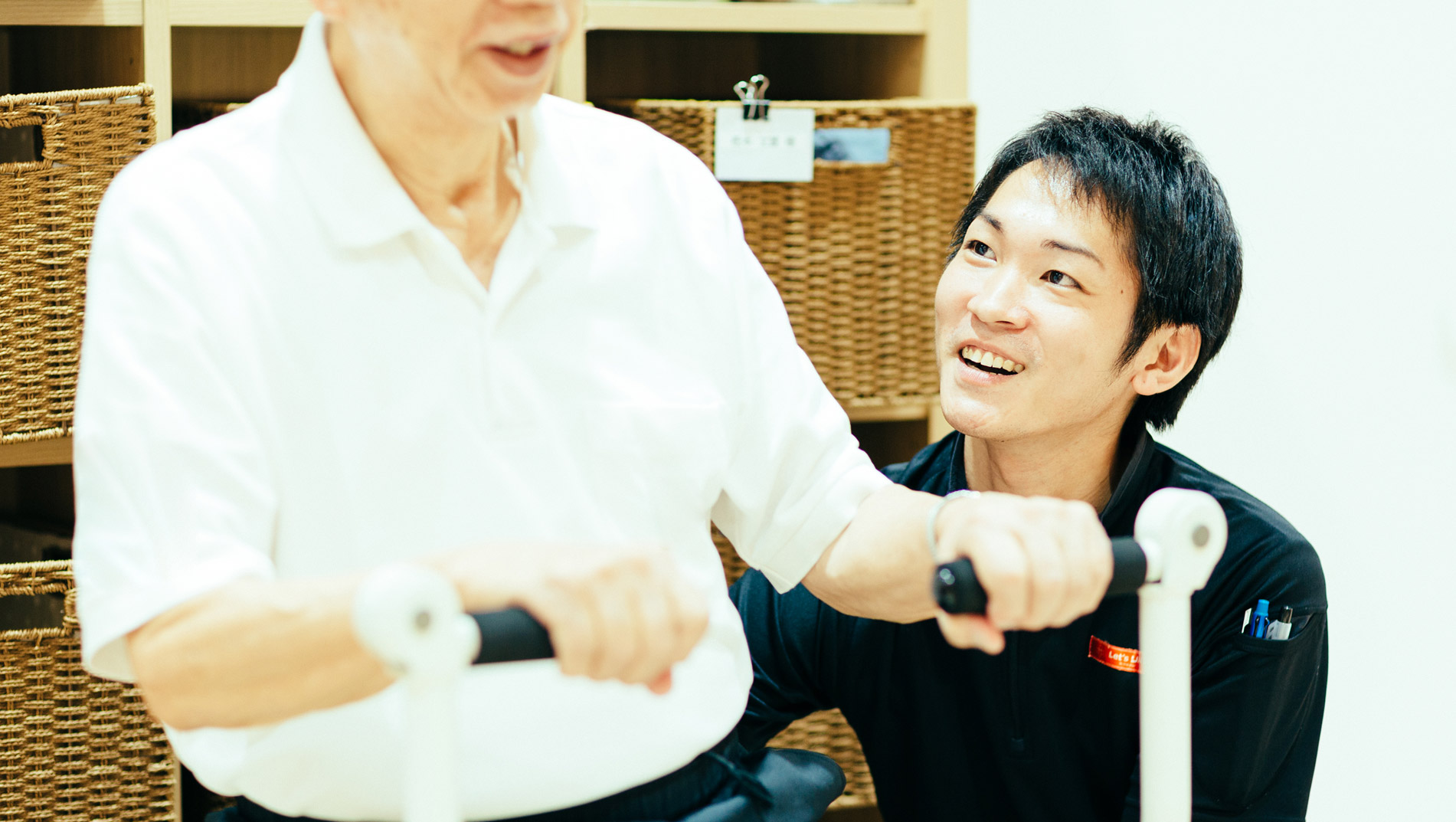 Change users' mental and physical conditions as "I can do whatever I want to do" in the Sakurajyuji's "rehabilitation gym".
Our rehabilitation staff assess appropriate ways to exercise and exercise load amount for each user and provide safe and effective rehabilitation programs which help users build muscles they need. Also, we support users' cheerful and affluent days by trying to change their minds and bodies in a positive way then make all their desires like playing golf again, going shopping alone, walking easily, going bird-watching, resuming dog-walking, and so on come true.
「したい」を「できるに」。
桜十字の「リハビリジム」です。
リハビリスタッフが一人ひとりに合った運動方法、負荷量を見極めながら、安全に、効果的なリハビリを行い、高齢者の「したいこと」に必要な筋力をつけるお手伝いをいたします。「またゴルフがしたい」「ひとりで不安なく買い物ができるようになりたい」「楽に歩けるようになりたい」「バードウォッチングに行きたい」「犬の散歩を再開したい」。暮らしの中の「したい」を「できる」に変えて、楽しく、豊かな毎日をサポートいたします。
Overview
Let's リハ! in the mall

リハビリ特化型デイサービス

ショッピングモール内という立地を活用した、楽しい「超実践型リハビリ」を提供。最新マシンを用いた身体機能の評価に基づいた個別リハビリで、結果を実感できるデイサービスの実現へ。
Let's Reha! in the mall

Day care center specializing in rehabilitation

Let's Reha! in the mall provide delightful "super practical rehabilitation". We strive to create the day care center where the users can realizethe results with personalized rehabilitation program based on assessment of body function with the latest rehabilitation machines.
Kumamoto
熊本
Let's Reha! Yomogi

Let'sリハ! 四方寄

Let's Reha! Tomiai

Let'sリハ! 富合

Let's Reha! Chikami

Let'sリハ! 近見

Let's Reha! Kengun

Let'sリハ! 神水

Let's Reha! Koshi

Let'sリハ! 光の森

Let's Reha! in the mall Sanpian

Let'sリハ! in the mall サンピアン

Let's Reha! in the mall Hamasen

Let'sリハ! in the mall はません

Let's Reha! in the mall Ooe

Let'sリハ! in the mall 大江

Let's Reha! in the mall youme town Yatsushiro

Let'sリハ! in the mall ゆめタウン八代
Fukuoka
福岡
Let's Reha Kuromon

Let'sリハ! 黒門

Let's Reha Arae

Let'sリハ! 荒江

Let's Reha Watanabedori

Let'sリハ! 渡辺通

Let's Reha Harada

Let'sリハ! 原田

Let's Reha Chikushigaoka

Let'sリハ! 筑紫丘

Let's Reha Hakataekiminami

Let'sリハ! 博多駅南

Let's Reha! Ozasa

Let'sリハ! 小笹
Hyogo
兵庫
Let' s Reha! Ashiya

Let'sリハ! 芦屋
Tokyo
東京
Let' s Reha! Hakusan Ekimae

Let'sリハ! 白山駅前

Let' s Reha! Yanaka Kototoi

Let'sリハ! 谷中言問

Let' s Reha! Musashino

Let'sリハ! 武蔵野

Let' s Reha! Kichijoji

Let'sリハ! 吉祥寺
Kumamoto
熊本
Let's Reha! PLUS Sakurajyuji

Let'sリハ!PLUS 桜十字

Let's Reha! PLUS Kumamoto Higashi

Let'sリハ!PLUS 熊本東
Fukuoka
福岡
Le habilis Sakurajyuji Day Care Center

レ・ハビリス桜十字デイケアセンター